My Second Baguette
Cooler temperatures and better oven steam action helped produce a better batch of baguettes.
By Ryan McGreal
Posted April 30, 2012 in Blog (Last Updated April 30, 2012)
Last summer, during a grueling heat wave, I decided to try my hand at making baguettes. The results were decent for a first try but left plenty of room for improvement, but life conspired to get in the way of a follow-up effort.
Finally, this past weekend, I prepared a second batch and applied the lessons I took from the first attempt. I'm happy to report that the results were definitely more impressive.
1
What You'll Need
↑
Every decent baguette recipe I found measured the ingredients by weight, not by volume, so make sure you have a decent kitchen scale. Here's a full list of equipment and tools:
Kitchen scale
Medium-size bowl
Large bowl
Wooden spoon
Sharp knife
Baker's couche or, failing that, a big, thick tea-towel and some wax paper
Cellophane
Large baking sheet
Kettle for boiling water
Medium-sized baking pan (e.g. for brownies or lasagne)
2
Poolish
↑
A day before you intend to make your baguette, you first need to prepare a poolish, or a pre-ferment.
2.1
Ingredients
↑
300 g. flour
300 g. warm water
1/8 tsp dry active yeast
2.2
Directions
↑
Combine the ingredients thoroughly in a medium-sized bowl.
Cover with a cloth and let sit overnight in a cool room (20-22 degrees Celsius is optimal).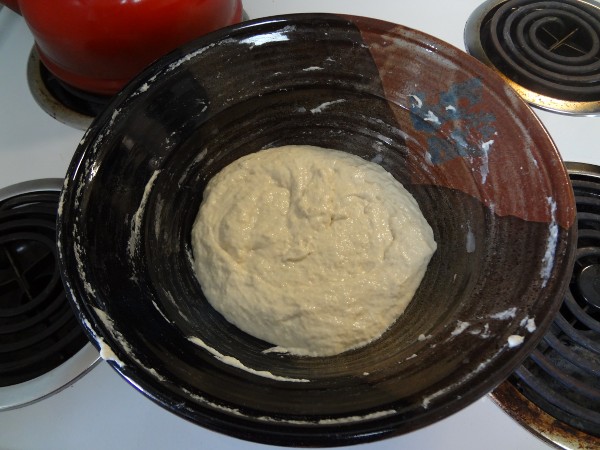 Combine flour, warm water and yeast to make a poolish
After fermenting, the poolish should look bubbly and almost liquid.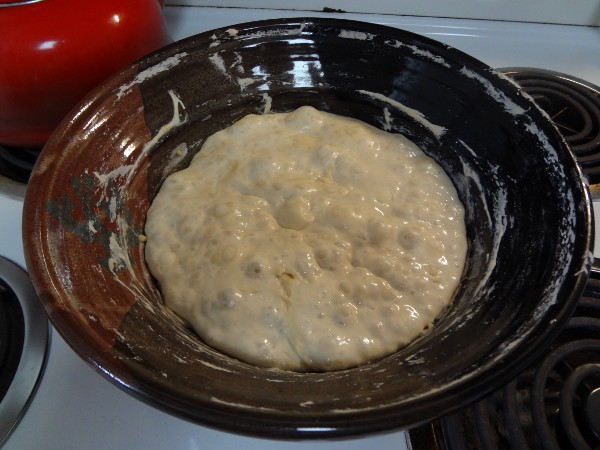 After fermenting overnight, the poolish should look wet and bubbly
Here's a closeup of the fermented poolish: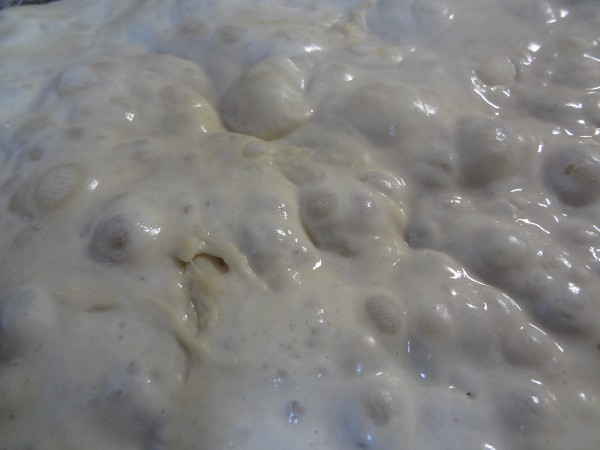 Closeup of fermented poolish
3
Baguette
↑
Once your poolish is mature, you can proceed to making the baguette dough.
3.1
Ingredients
↑
The poolish you just made
600 g. flour
300 g. warm water
1 Tbsp. salt
1 tsp dry active yeast
3.2
Directions
↑
Combine all the ingredients in a large bowl using the wooden spoon. Don't worry - there's enough water even if it doesn't seem that way at first.
Knead the dough for 15 minutes. You might need to add bits of flour to stop it from sticking to your hands.
Form the dough into a ball. Rub it with oil and cover it with a cloth.
Let it rise for around 2 hours, or until doubled in size.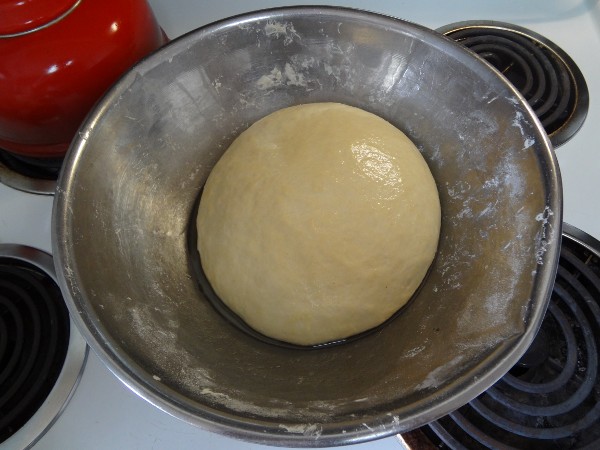 Dough in the process of rising
Once the dough is ready, cut it into four equal-sized pieces and shape each piece into a rough circle.
Cover each piece with cellophane and let them rest for 20-30 minutes.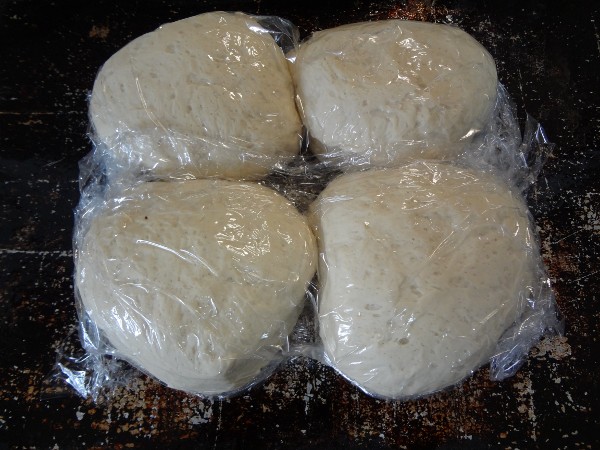 Dough quartered, shaped into balls and wrapped in cellophane
Next, shape the four dough pieces into baguette shapes.
Fold the couche or cloth into four folds, one for each baguette, so that it holds its elongated shape during the final rising period. Note: if you're using a cloth in place of a proper couche, cover the cloth in wax paper so the dough does not stick.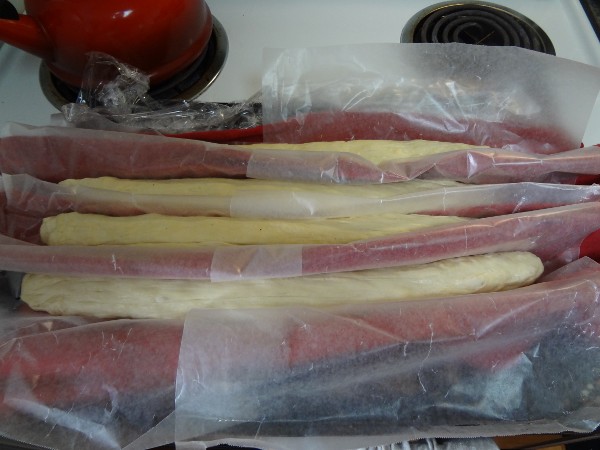 Dough shaped into baguettes and folded into a makeshift couche
Cover and let rise for another around 1.5 hours.
Now preheat the oven to 450 degrees fahrenheit.
While the oven is heating, boil some water in a kettle. When the oven is ready, pour most of the water into your pan and place it on the bottom tray of the oven.
Transfer the baguettes from the couche onto a large baking sheet.
Using a sharp knife, cut several shallow, slightly diagonal scores across the top of the baguettes.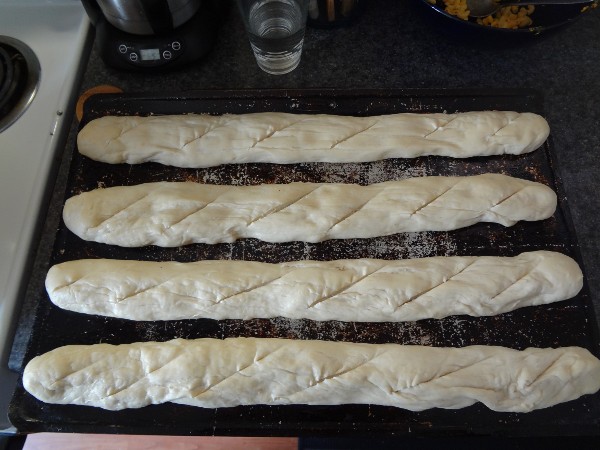 Baguettes placed on the baking sheet and scored with a knife
By now, the oven should be back up to 450 degrees and the water in the pan should be boiling energetically. Place the baking sheet with the baguettes onto the top tray of the oven.
With the rest of the boiling water, splash it around the interior bottom and sides of the oven to get some good steam going, and then quickly close the door.
Bake for around 20 minutes, and remove from the oven once the baguettes are golden brown.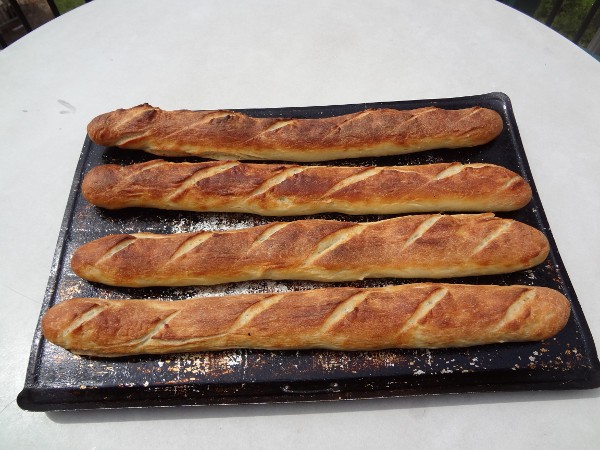 Out of the oven: slightly overdone but still tasty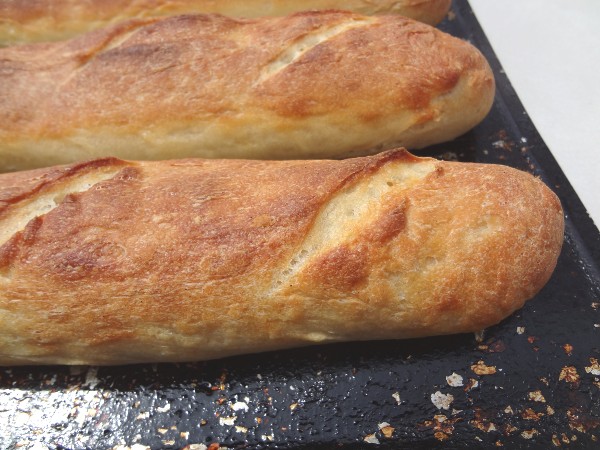 Closeup of the baked baguettes
As you can see, my baguettes turned out slightly overcooked (I should have taken them out a minute or so sooner), but they were delicious: crunchy on the outside, soft and chewy on the inside, with a nice baguetty flavour. We served them as part of a French-themed dinner on Saturday night and they were well received.