A Third Year of Running, Plus Various Other Experiments
In my third year, I have finally internalized and accepted the lessons of my second year, which has allowed me to return to something akin to the accomplishments of my first.
By Ryan McGreal
Posted July 26, 2016 in Blog (Last Updated July 28, 2016)
As of today, I have been running recreationally for three years. My first year of running was a triumphal sequence of milestones with only a couple of minor setbacks along the way. So it was perhaps inevitable that my second year of running would be a painful introduction to hubris and humility.
I think it's fair to say that my third year has been a synthesis of the first two: I have finally internalized and accepted the lessons of my second year, which has allowed me to return to something akin to the accomplishments of my first.
1
Yet Another Foot Injury
↑
Last summer and fall, I felt injury free and was going from strength to strength. On October 13, 2015, I set a new personal record (PR) for 10 km, maintaining an average speed of 11.31 km/h (5:19 min/km). I figured that was just a fluke, but I averaged 11 km/h on October 20, 11.13 km/h on October 22 and 11.12 km/h on November 3. Even on my slow days I was running in the range of 10.7-10.9 km/h. Through November, I cracked 11 km/h four times and got close to 11 km/h on my other 10 km runs. Yes, the speed monkey was once again perched firmly on my back.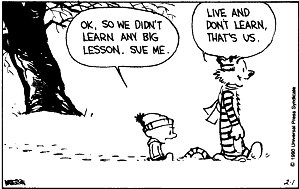 Calvin and Hobbes: Live and don't learn
On December 1, I beat my previous PR with a 10 km averaging 11.37 km/h (5:17 min/km). Then I beat it again two days later with a 10 km at 11.4 km/h (5:16 min/km). My two 10 km runs the following week were both faster than 11 km/h, and the week after that I beat my PR yet again: on December 15, I ran a 10 km at a blazing (for me) average speed of 11.76 km/h (5:06 min/km).
Over the next couple of days, I started to notice a nagging soreness on the outside middle of my left foot, in the general area of my fifth metatarsal bone.
At first I worried I might have a stress fracture (very bad news!), but my foot passed the "one-legged hop test" - if you have a stress fracture, it hurts too much to hop on it repeatedly.
The pain was fairly dull and intermittent, but as time went on I realized it wasn't going to go away quickly by itself. The joy of running in shorts and a t-shirt on Christmas Eve was tempered by the realization that I had definitely done something to my foot.
I really, *really* didn't want to take another break from running, especially with the 30 km Around the Bay Road Race just three months away. I absolutely did not want to have to go through a repeat of the previous year's desperate scramble to prepare, when just a week earlier I had been doing 25-26 km long runs back-and-forth along the hardest part of the Bay Race route.
1.1
Low Intensity Training
↑
With nothing to lose, I decided to do some experimenting. I discovered that if I ran with really solid form, was careful not to over-pronate and maintained a speed below 9 km/h, my foot didn't feel pain. I decided to see whether I could *train below the threshold of aggravation* and maintain my progress.
Knowing that achieving this meant I was going to do most of my running at low speed to achieve this, I did some reading on low-intensity training. The news was encouraging: in fact, elite running coaches generally believe that *most* training should be low intensity. While there is some debate, the general consensus now seems to be that 80 percent of your running should be at low intensity and 20 percent should be at high intensity: tempo runs, intervals, fartleks and so on.
1.2
Benefits of Low Intensity
↑
Low intensity training comes with a slew of benefits, including better running form and fewer injuries:
It fosters the creation of new mitochondria, improved heart and cardiovascular efficiency, and faster damage recovery from harder runs. There's a lot of science behind this but your body undergoes some remarkable adaptations when you subject it to lots of slow miles.
At lower intensity, you maintain better form, which improves running efficiency and reduces impact strain and the risk of injury. Runners' form inevitably goes to hell when they try to train at high intensity over long distances.
Sheer volume of running is one of the most important ways to become a better runner, and low-intensity means you can put in more distance. I peaked at around 64 km a week in March before moving into my final taper.
Your body becomes more effective at burning fat for fuel.
1.3
Changing Running Habit
↑
Many coaches define low-intensity running as running below the *ventilatory threshold* - the level of intensity at which you have to start breathing a lot faster and deeper to get enough oxygen. I committed to adopting this approach with my own running. Of course, it takes time to change habits and I spent January mostly still running too fast, though I did cut my long run distance back to 22 km. However, when February began I finally committed to low-intensity running.
I forced myself to maintain low intensity by breathing through my nose (mouth closed), inhaling for five or six steps and exhaling for five or six steps. This was frustrating: it meant I could only run at a very slow 8.5 km/h! My foot completely stopped bugging me after I adopted this pace, and the low intensity meant I could increase my number of weekly runs from three to four. With four runs a week, I was running more total distance even though I was doing each run more slowly.
Even though I maintained an inhale-for-five-steps, exhale-for-five-steps breathing pattern, my speed at that breathing pattern shot up rapidly. I believe part of this is simply that my running form became more efficient: producing more forward momentum for the same expenditure of energy. By denying myself power, I forced my body to become more mechanically economical.
It's quite possible that I also became more efficient at inhaling air through my nose. Previously, I had always run with my mouth open so inhaling exclusively through my nose was new. And of course, there are the other metabolic changes - increased cellular mitochondria, and so on.
I was never sure whether I was actually running at the correct intensity. I don't have a heart rate monitor so I'm just guessing that my limited-air intake proxy was getting me into the right ballpark. Still, there is no question I saw a rapid and dramatic improvement in how fast I could run at a given level of intensity.
1.4
No Sugar Challenge
↑
Just I was reading this stuff, my son came home from school and announced that he was taking the Two-Week No Sugar Challenge, i.e. eat no processed sugar at all for two weeks. Inspired by his determination, I joined the challenge and eliminated processed sugar, avoided simple carbohydrates (like pasta) and even cut back on fruit.
I highly recommend this! Over the two weeks, the challenge reset my taste sensitivity to sugar. By the end, a banana was almost too sweet. To this day I eat less sugar than before. Perhaps more important, the challenge also seems to have reset my metabolism. I gradually stopped experiencing sugar highs and lows. My energy level no longer dips in midafternoon and I feel generally calmer and more balanced.
Of course, there were some training implications. I did two 23-25 km long runs during the challenge, and in both cases I set out on an empty stomach early in the morning and brought only mixed nuts to much on. I normally bring a date-and-nut bar, but dates are around 50 percent sugar so it seemed in keeping with the spirit of the challenge to leave them at home.
I was also curious about what would happen once I used up my stores of glycogen, which seemed to happen roughly two hours into the runs. Rather abruptly, I found that my energy level dropped, my pace faltered and my hunger turned ravenous.
I have a particularly strong memory of returning up Locke Street one Saturday morning and passing the Earth to Table Bread Bar as they were baking croissants. The whole block smelled like fresh buttery pastry and it drove me more insanely hungry than I ever remember feeling. I had to restrain myself from smashing through the front window to grab one!
1.5
Intermittent Fasting
↑
Another benefit of that reset was that I was finally successful in adopting intermittent fasting. On weekdays I now eat only between 1:00 PM and 7:00 PM and fast the other 18 hours. (On weekends I eat normally.)
There's some interesting science behind intermittent fasting. It:
Reduces blood insulin levels, triglycerides and dangerous LDL cholesterol;
Lowers blood pressure, reducing the risk of heart disease and diabetes;
Dramatically raises human growth hormone, which helps to build lean muscle mass;
Switches cells to maintenance mode, repairing cell damage and potentially reducing the risk of some types of cancer.
I have to say, intermittent fasting feels great - I have lots of energy, I don't get food cravings and I generally feel better than I have in years. I even make a point of doing my daily cardio exercise (running, cycling or brisk walking) during the last hour of the fast and following it with my first meal of the day. At no point have I felt weak, dizzy, light-headed or otherwise ill, even during tempo or interval runs.
I've been doing it for several months now and have no plans to give it up. Unless something changes, I definitely plan to continuing following this practice.
1.6
High-Resistance Injury
↑
So how did all of this affect my intermittent foot injury? The good news is that my theory of training below the threshold of aggravation seems to have worked. As long as I kept most of my training at a low intensity and focused on maintaining good form (i.e. not over-pronating too much), my foot felt fine and I didn't have any symptoms.
As time went on, I have been able to go progressively faster before I felt that twinge of pain start to come back. That idea of an intensity threshold of injury symptoms led me to a kind of fuzzy hypothesis.
Years ago I worked as a telephone repair technician. A telephone line is very simple, just two wires: one going from the switching office to the phone, and one returning from the phone to the switching office. A small current originates in the switching office along one wire, crosses the phone to provide dial tone, and returns to ground along the other wire.
A common fault is a short circuit: the current jumps directly from one wire to the other and never makes it to the telephone. A less-common variant is a high-resistance short circuit. The voltage of a standard phone line jumps from 48 volts to 120 volts to trigger the telephone's ringer when a phone call is coming in. That higher voltage is enough to cause the current to jump across the wires. The short circuit disconnects the call, causing the voltage to drop back to 48 volts. That, in turn, causes the short circuit to disappear again, at which point normal dial tone is restored.
This is the analogy that came to mind for my foot. It worked fine at a low intensity level, but pain manifested at higher intensity. In effect, it was a "high-resistance injury". But unlike a high-resistance short circuit, my foot was slowly repairing myself as I kept my training intensity down, and the intensity level at which symptoms reappeared got progressively higher.
Combined with the fact that I was becoming progressively more efficient at a given level of intensity, this meant I was able to continue increasing both my distance and speed throughout the period in which I was ostensibly recovering from an injury.
2
Around the Bay
↑
My winter running schedule may have been constrained by my high-resistance foot injury, but it was framed by my desire to compete in this year's Around the Bay Road Race.
2.1
Long Runs
↑
My long run distance was steadily creeping back up after I had backed it off at the end of December. I was training along the hardest part of the Bay Race route - the hilly North Shore Boulevard section - by running it twice: once from my house out toward Joseph Brant Hospital, and again on the way back.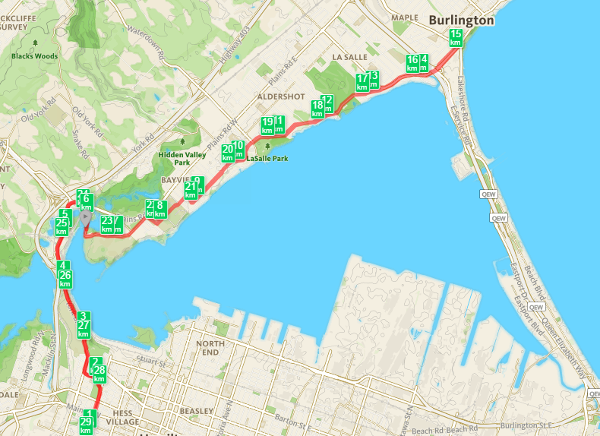 Bay Race training route from southwest Hamilton along North Shore Boulevard and back
I also added in the very big, nasty hill on Spring Gardens Road, which has a steep switchback bridge on the west side and a long, punishing climb on the east side. I figured that training on a route harder than the route I would have to do on race day would put me in good shape.
The route got to be fairly lonely. My schedule had me going out really early, so I ran alone and hardly encountered anyone else on the road. Also, the section along York from Dundurn to Plains is loaded with big infrastructure - wide lanes, highway overpasses and bridges - that makes a mere human feel especially puny and insignificant in the predawn gloom.
My 28 km long run on Sunday, February 14 (Valentine's Day) was the coldest day of winter. The temperature was -20C when I headed out at quarter after six in the morning, and I wore two shirts, a winter shell, a wool hat and scarf, two pairs of gloves and a fleece hoodie on top of everything else.
Icicles kept forming on my eyelashes and eyebrows, but otherwise I stayed toasty - a bit too hot, actually, once my body warmed up. I didn't bring any water, since my water bottle would have just frozen at that temperature, so I had to be careful not to sweat too much and get dehydrated.
In addition to the warm glow I got from sticking to my running schedule despite the cold, I enjoyed some breathtaking views of Hamilton Harbour from North Shore Boulevard, particularly as the sun rose and steam started pouring off the water.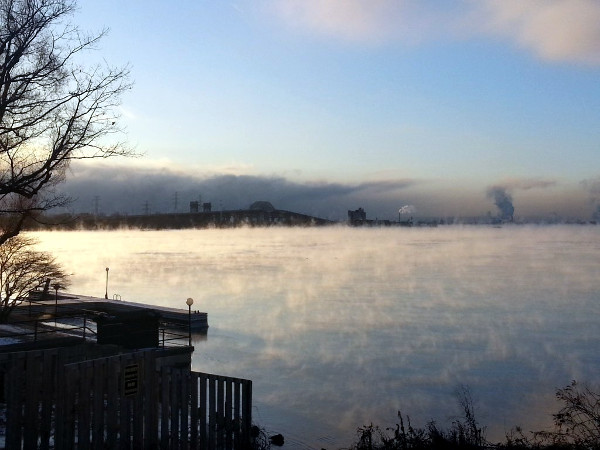 Hamilton Harbour and Skyway Bridge from the bottom of Francis Street, February 14, 2016
The next week I ran 28.4 km at a respectable average speed of 10.29 km/h (5:50 min/km). The week after that, I managed a full 30 km for the first time since I had run the previous Around the Bay a year earlier. My first time running 30 km was just to cover the distance, and I did it at a stately 9.79 km/h (6:08 min/km).
I had enough time for two more 30 km training runs before beginning to taper for the big day. My long run on March 6 managed 10.17 km/h (5:54 min/km), but I really felt my energy fade over the last five km. That sense of petering out at the end was fairly discouraging.
The following week I took it a bit easier through the run so I'd have some energy left over for the end. My average speed was the same - 10.17 km/h - but it felt a lot better to be able to maintain a pace right through to the end.
At this time I picked up a new pair of shoes. I got them a couple of weeks before I really needed to, but I wanted them to be broken-in by the time I wore them on the Bay Race.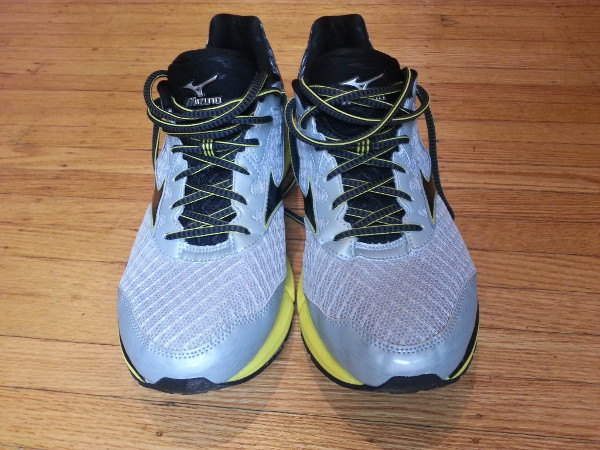 New shoes, March 15, 2016
Like the previous several pairs, they were Mizuno Wave Riders, but version 19 had come out since my previous purchase, and they had a new look with a silvery-grey upper and yellow and black soles.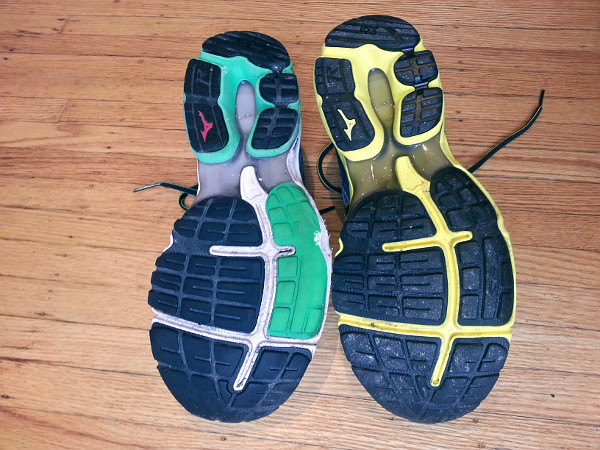 Wave Rider 19 sole, compared to worn-out Wave Rider 18
However, they were otherwise of a similar construction and were still extremely comfortable on my feet. Research conducted by the U.S. Military has concluded that the best way to choose the right pair of shoes is to try on a wide variety of brands and types and then pick the ones that feel the most comfortable.
After my last 30 km long run, it was time to taper for the big day. My March 20 run was just 26.5 km at a brisker 10.41 km/h (5:46 min/km) and I meant for my final pre-race long run to be just 22-23 km. However, I ended up not able to do it.
2.2
Germophobia and the Final Week
↑
As the race approached, I became increasingly paranoid that something would happen to knock me out of the race: an injury, illness or other disaster. As a result, I became increasingly careful about not getting hurt.
I also became increasingly germophobic, a practice that caused some consternation with my family - especially when my son caught a cold a week and a half before the race and I insisted on comforting him from a prudent distance.
Notwithstanding my best efforts, I woke up on Good Friday feeling sick with some kind of gastrointestinal upset. I managed to get in a low-intensity 10 km run that day, but I felt like garbage all weekend and when I woke up on Sunday, I felt too rotten to head out the door and away from the bathroom.
I still felt under the weather on Monday, March 27, but could feel I was on the rebound, and I did a 10 km tempo run while managing to hold everything inside.
On Tuesday, I did an easy 7 km jog with a friend who is getting back into running after Achilles tendinitis, and it was great to run with someone who kept me from going too hard. Wednesday was a 9 km at a moderate speed, and Friday was a slightly up-tempo 9.5 km, partially done out of lingering guilt over not having done my long run the previous Sunday.
Aside from a few brisk walks on my non-running days, I was out of things to do to prepare.
2.3
The Race Morning
↑
I spent the entire week before the race agonizing over what to wear. The weather forecast called for around -3C in the morning, rising to -1 or 0 by the end of the race.
That's an awkward temperature for me, because I have a really warm winter shell for when it's -5 or below, and of course you can just wear shorts and a long-sleeve shirt or two if it's above +2 or 3. When it's in the range of -3 to +3, I have a floppy windbreaker I wear that suits the weather but isn't great for going fast in a race.
"Luckily" the morning dawned really cold, -6C according to my local Wunderground station. That meant I could safely wear my winter shell, but I was still worried about it getting too warm later, since the thing is just too hot above -4. So I split the difference and wore the shell on top with shorts on bottom. I figured I could radiate excess heat through my legs if it got too warm.
It turns out I was dressed more or less spot-on for the race itself. I was able to tune my warmth by zipping and unzipping the shell and rolling my sleeves up and down, and my legs were plenty warm from the exertion of running. However, the 2.2 km walk from home to FirstOntario Centre was quite chilly.
I tend to get paranoid about showing up late or somehow having misread the start time, so I arrived an hour before the race started. That meant an hour of wandering around and killing time. I spent a lot of that outside, in part because being inside the arena made me nervous that I might miss the start of the race, and I got pretty cold. I was shivering quite a bit, and I started to tense up.
Being cold like that produced one strange and unpleasant outcome: Not long before the race started, I was hopping over a small concrete bench in front of the federal government building on Bay Street and my back spasmed when I landed. I actually tumbled and rolled over, scraping my hands and right leg and landing on my back.
After that, my back was tender, sore and twingy for the entire race and the next few days afterwards. (It actually continued to twinge intermittently for the next several weeks and even flared up again in subsequent months, which was pretty frustrating.)
Fortunately, running didn't hurt any more than not running, so I was still able to complete the race. If anything, it forced me to maintain a straight posture because it would flare up when I slumped.
2.4
The Race Itself
↑
That stumble was the only sour note in an otherwise excellent experience. When the race actually began, I was of course swept up in the enthusiasm of the starting line and poured down the street along with the almost 6,000 people running the full 30 km or the first part of a relay.
My mobile running app is set to give me audio updates every five minutes (time, distance, average speed), but there was so much general noise that I didn't actually hear it until the 15-minute update. I was amazed so much time had already passed!
I settled into a speed of around 10.5 km/h (5:43 min/km pace), which was a moderate level of intensity I felt I would be able to sustain for at least the first two-thirds of the race. I employed a relatively fast cadence of three steps per second or 180 steps per minute with a mid- to forefoot strike.
My breathing pattern was: inhale five steps and exhale five steps for three repetitions, and then inhale five steps and exhale four steps for one repetition. (Dropping a step from every fourth exhalation means the foot I land on while starting to inhale regularly alternates, reducing the risk of imbalance injuries.)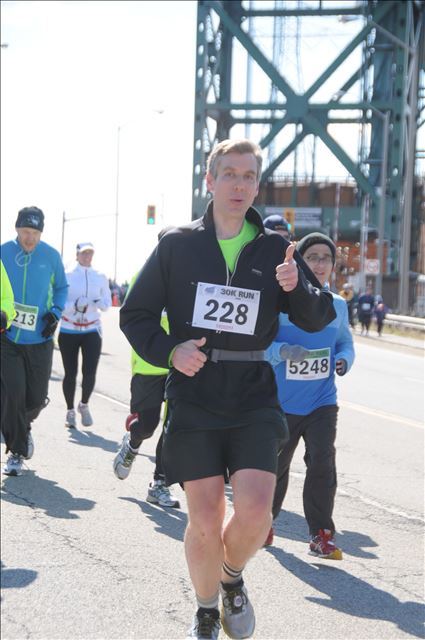 Thumbs up near the High Level Bridge (Image Credit: Marathonfoto)
I still felt good by the 19th km, where the rolling hills of North Shore Boulevard begin, so I decided to keep my pace up by switching to an inhale-four-steps, exhale-four-steps pattern (dropping to exhale three steps every four repetitions) to increase my rate of oxygen intake.
That breathing pattern sustained me through the hills and up to Plains Road, but I definitely switched from operating reserves to capital expenditures and could feel my energy level start to drop. Between 15 and 23 km, I gradually munched on a peanut-and-date energy bar, so I was able to replenish some glycogen before bonking. However, my muscles were getting straight-up tired.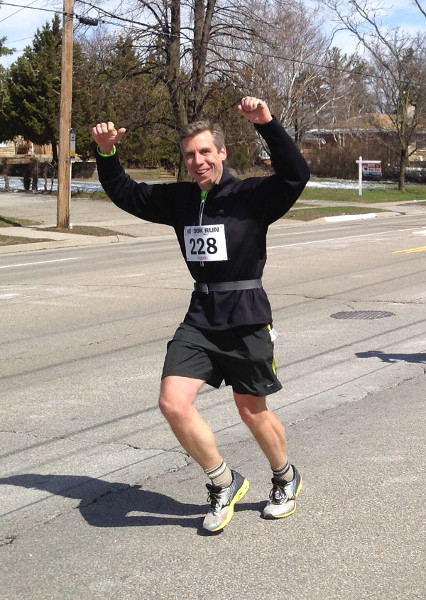 More mugging for the camera in the 24th km (Image Credit: Bruce Taylor)
As an aside, this close-up shows just how dramatically I was pronating: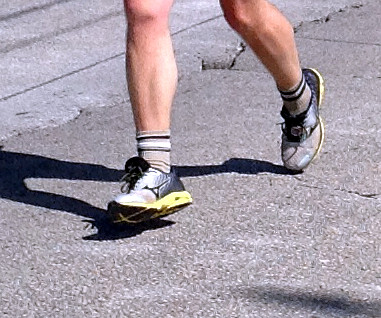 Prontating on the Bay Race (Image Credit: Bruce Taylor)
For the last five km after Plains Road transitioned to York Boulevard, I switched to an inhale for four, exhale for three breathing pattern, and finally an inhale for three, exhale for three pattern down the home stretch.
Again, that allowed me to maintain my pace despite increasing fatigue: my km-29 speed was 10.59 km/h and my km-30 speed was 10.79 km/h. I didn't want to leave anything out on the course.
I don't know whether these made a significant difference to my overall speed, but as I had learned during my training runs, it feels much better psychologically to finish strong than to peter out.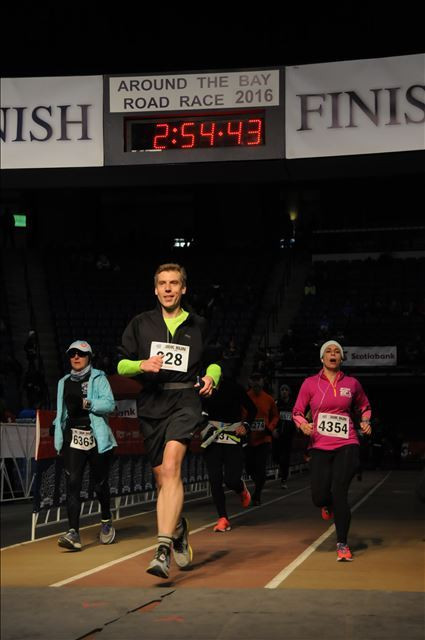 Just about to cross the finish line (Image Credit: Marathonfoto)
2.5
Results
↑
According to Sportstats, my official time (from when the gun went off until I crossed the finish line) was 2:54:44.6. My chip time (from when I crossed the starting line until I crossed the finish line) was 2:52:31.5. Here is how I measured up against the other participants:
Finishing Place by Comparator

| Comparator | Population | Place | Percentile |
| --- | --- | --- | --- |
| Males age 40-44 | 443 | 267 | 40 |
| All males | 2,669 | 1,508 | 43 |
| All participants | 5,259 | 2,253 | 57 |
Among the 443 males age 40-44 in the 30 km, I finished in 267th place, putting me in the 40th percentile (i.e. faster than 40 percent of the runners in this category). Among all 2,669 males, I finished in 1,508th place, putting me in the 43rd percentile (i.e. faster than 43 percent of all male runners). Among all 5,259 30 km participants, I finished in 2,253rd place, putting me in the 57th percentile (i.e. faster than 57 percent of all the runners).
I can honestly say I'm completely satisfied with being roughly in the middle of the pack when the pack in question is people who ran a 30 km race!
3
My First Extended Fast
↑
By this point I had been having really positive experiences with 18:6 intermittent fasting, but I found myself wanting to experiment with something more intensive.
So on Sunday, April 24 at around 8:00 PM, I ate a piece of banana bread after dinner. That was the last thing I ate until Wednesday, April 27 at 9:00 PM, when I had a slice of toast to restart my digestive system.
For the intervening 73 hours, I ate nothing and drank only water and clear tea.
3.1
Day One
↑
The first day, Monday, was pretty easy. I was already accustomed to intermittent fasting on an 18:6 schedule so I didn't really start feeling hungry until mid-afternoon. Monday was a day off from my running schedule, but I took a brisk 7 km walk around lunchtime and felt fine.
Monday evening was harder, because the division of labour in my household has me cooking dinner on weekdays and that night's scheduled dinner was latkes. The smell of frying potato, onion and egg was an intoxicating test of my resolve. My family said it felt weird and uncomfortable to have me sitting with them during dinner but not eating. It felt a bit weird for me, too.
Mood-wise, I found myself getting crabby and irritable in the evening. I had to hold my tongue when I found myself wanting to get snappy with my family.
A common piece of advice for fasting is to drink lots of water, but I think I may have overdone it a bit. On Monday night, I got up three times to pee, when I usually sleep through the night. I also slept rather poorly, but that's pretty common for me.
3.2
Day Two
↑
I woke up on Tuesday morning without a feeling of hunger, which was nice. I got up and felt reasonably energetic. I didn't notice anything until I was walking to work, when my hunger level ramped up during the exertion of a moderately brisk walk.
Tuesday is a running day for me, and I usually run 10 km during my lunch hour. People who go on extended fasts recommend taking the time to rest and let the body enjoy a break from day after day of exertion. This makes sense, but one of the reasons I wanted to fast in the first place was to learn more about my body, including how my physical performance relates to the food I eat. So I decided to follow my usual running schedule and see what happened.
I noticed several things on this particular run, in which I only managed a little over 9 km in the time I usually run 10+ km:
My energy level was severely depleted compared to how I usually feel. My normal easy cruising speed is in the 10.5 km/h range, but for this run I could barely maintain 10 km/h at a fairly hard exertion. I found that if I pushed beyond this, I started to feel light-headed, but if I maintained this speed, I felt okay (not good, just okay).

I normally follow the breathing pattern: inhale for five steps and exhale for five steps (5:5), but with this run I almost immediately had to revert to 4:4 - I just wasn't getting enough air on 5:5. During parts of the hill, I had to go to 4:3 and even 3:3.

I had been feeling just a dull, mild hunger that day until I started running, at which point it became an acute, roaring hunger. The intensity of hunger did gradually subside after I stopped running, but it seemed more present for the rest of the day.

For the first time in as long as I can remember, I actually found myself wanting to cut the run short and bail. The whole thing felt like the last exhausted stretch of a long run that extends your distance limit - the part you push yourself through with sheer willpower.
On Tuesday evening, I had to run the dinner gauntlet again, and it was even harder than on Monday to abstain from eating. Dinner was breaded chicken and quinoa with roasted root vegetables and toasted pecans, pepitas and sunflower seeds. The smell of roasting carrots, parsnips and beets almost drove me batty. (Interestingly, the chicken did nothing for me.) Instead of sitting with my family for dinner, I kept myself busy in the kitchen cleaning up, which everyone seemed to prefer.
Tuesday night I only got up to pee twice, but I slept quite poorly again.
3.3
Day Three
↑
Once again, I felt no hunger when I woke up, and once again, the hunger came back during my walk to work. By Wednesday I definitely noticed that I was walking more slowly than usual. I just didn't seem to have it in me to pick up the pace.
I continued to work at my standing desk (I like to keep moving when I'm working, and I listen to music to have something to move to), and I didn't particularly feel weak while working, taking the stairs or doing my daily routine of planks, pushups and one-legged calf-raises.
Instead, as the morning went on, I began to feel giddy. My energy level seemed to be fine, despite the ever-present gnaw of hunger, and I had no trouble concentrating. In fact, I found my mental clarity became sharper than usual.
I was curious to see how my body would perform on my next scheduled run. As it turns out, it performed very much like it did on Tuesday, except that I eased off a bit further on my pace in order to make the experience less dire. I actually felt a bit of a second wind on the back half of the run, though I only managed to run 9 km and my average speed ended up being a stately 9.85 km/h. Once again, a hunger that had been mostly dull and low-intensity roared back into high alert once I started running, and it took a while after the run ended before it settled back to a dull grumble again.
On Wednesday afternoon, I felt - there's no other way to put it: I felt low. It was a deep physical, emotional and spiritual low point for me. Walking up a flight of stairs left me feeling fatigued, and I felt more depressed and discouraged than I remember feeling in a while. Dinner was barbecued honey-garlic sausages and a big salad. This was easier to make and not eat, since the smell of cooking sausages was diffused in the outdoor breeze. However, that low, lethargic, depressed feeling continued all evening. My wife kept asking me if I was okay.
By the time I went to bed, I felt downright terrible, and I seriously wondered if I might be doing myself harm. In particular, my heartbeat felt strange - a bit fast and heavy, and I could feel it beating throughout my body. I sort of felt the way I feel after a couple of days of illness. I had been intending to continue the fast for five days - unless I became seriously concerned about my health. So I decided with a heavy heart to break my fast on Wednesday night.
I made myself a slice of whole-grain toast with a scrape of butter and nibbled on it slowly over 20 minutes, drinking lots of water along the way. My stomach gurgled happily for the next hour or so, and I eventually fell asleep. (And yes, I woke up twice to pee.)
3.4
Day Four
↑
I woke up on Thursday morning feeling incredibly revitalized. That one piece of toast completely changed my mood and energy level! I thought I would wake up ravenous after re-engaging my stomach with food, but I didn't actually start to feel hungry until after my walk to work.
I took this day to transition from fasting to normal eating again. There's a terrifying thing called refeeding syndrome, and I don't know what the threshold is for triggering it but I was not going to take any chances. I started with a smallish tossed salad of arugula, walnuts and apple slices, which I nibbled very slowly over half an hour with a mug of tea. Then I let that sit for a few hours to see how it went down.
Thursday is a cross-training day for me, so I went on a lunchtime bike ride as part of a project I'm working on to analyze GPX data from Hamilton Bike Share trips. My energy level felt great - in fact, I generally felt fantastic all day, from the moment I woke up. After my deep low on Wednesday, I was euphoric. I had a spring in my step again, and seemingly all the energy a person could ask for.
For lunch, I ate some of the leftover quinoa and roasted vegetable salad from Tuesday night. Again, I ate very slowly and had it with lots of water.
After work, I had a snack and then my wife and I went to an event where they were serving delicious bite-sized appetizers - perfect for someone adjusting back to eating after a multi-day fast.
3.5
General Observations
↑
I'm disappointed I wasn't able to go the full five days. From what I've read, fasting usually becomes considerably easier after the third day, and I didn't continue long enough to experience this. On the other hand, I had decided at the outset that I would only stop if I became seriously worried about my health, and this is what I did. I didn't give up because of hunger - in fact, the hunger generally wasn't as bad as I expected - or because of a lack of willpower.
I also made a point of not telling people I was fasting. The only people I told were my immediate family, who would otherwise have wondered why I wasn't eating with them, and one friend with whom I share an interest in "life hacking".
I'm not religious but I was raised Catholic and have always been struck by the message in Matthew 6:16: "And when you fast, do not look dismal, like the hypocrites, for they disfigure their faces that their fasting may be seen by men. Truly, I say to you, they have their reward." So I tried my best not to "look dismal", mope around and allow myself to feel self-pity, as if I was making some kind of big sacrifice.
After all, I was fasting on my own initiative, and I was doing it in order to widen my experience of the human condition, learn about my body and mind, and explore the potential health benefits. That's hardly a basis to feel sorry for oneself!
I learned that food contains a lot of water. When you stop eating, you need to dramatically increase the amount of water you drink to avoid getting dehydrated. Even though I was drinking twice as much water as I usually do, my lips still tended to get dry and chapped. On the bright side, I didn't experience any of the headaches that plague lots of people who fast.
Overall, I found I had enough energy to do day-to-day tasks, and I experienced a high level of mental clarity. I did get the occasional feeling of dizziness, and I started to feel light-headed a few times during exertion (running or climbing stairs), but my ability to function through day-to-day activities seemed to be unimpaired.
But my ability to carry out physical activities of any real intensity - like running - was severely impaired. I went from running 12-14 km at 10.6-7 km/h on an easy pace the week before to being exhausted going 9 km at barely 10 km/h. This was extremely instructive.
What really surprised me was the deep pit of depression and lethargy I sank into on Wednesday. Again, I wish I had been able to go an extra day to find out whether that would pass.
3.6
Variations
↑
This experience has transformed my relationship with food. I have a new appreciation for what it means to be hungry - really hungry, not just peckish or snackish or cravingish. I don't know whether I will do another extended water-only fast - and if I do, I will commit fully to taking the time to be as restful as possible. But I'm also interested in exploring some variations on fasting, like the periodic fast-mimicking diet, which reduces food intake by two-thirds for five days instead of eliminating it entirely.
I like this approach in part because I started to become concerned about not replenishing electrolytes: sodium, potassium, magnesium, calcium and so on. I was drinking and flushing a huge amount of water, and while I didn't sweat much, I still worried that I might be putting myself in danger. A fast-mimicking diet might provide for the benefits of fasting while avoiding the dangers of an electrolyte imbalance.
4
Unity Run
↑
The Unity Run (formerly the Blarney Run) is an annual fundraiser for PTSD support for emergency first responders. The first year, the run started at Bayfront Park. Last year it started at Coronation Area in Westdale. This year it was held on Saturday, May 14 and started at Confederation Park in the east end.
I had signed up for the 10.4 km run (after 10-4, the radio ten-code for "okay/understood/affirmative") and didn't do any special preparation for it since that's how far I go on my regular weekday runs.
Race day dawned cold and miserable. I woke up to steady rainfall and a single-digit temperature. I reluctantly biked the 15 km to Confederation Park and picked up my race kit. The rain had stopped by the time I got there and the temperature crept up a few degrees.
The run itself was a lot of fun. I didn't see anyone I knew but there was a nice camaraderie. Not particularly concerned about my finish time, I started nice and easy - around 10.5 km/h - but the run felt good and I steadily ramped up my pace. I did the last two km or so at nearly 12 km/h and ended up finishing with an average speed of 11.45 km/h, which is the second-fastest I've run a 10 km.

Photo taken at the finish line for the Unity Run
I have to say, the bike ride home after the race was a bit slower than the bike ride there, but all in all I enjoyed book-ending the run with bike rides. The former was a nice warm-up and the latter was a nice way to stay moving and limber.
5
Sulphur Springs Trail Race
↑
My next organized run after that was the Sulphur Springs Trail Race. I heard about this run from friends who had signed up for the 50 km. That seemed out of my range so I signed up for the 25 km. There's also a 10 km, a 100 km and a 100 mile (160 km) route.
I really enjoy trail running. I like to run at an easy pace, take my time and keep relaxed when navigating the variable surface of roots, logs, rocks, mud, dirt, grass, streams and up-and-down hills.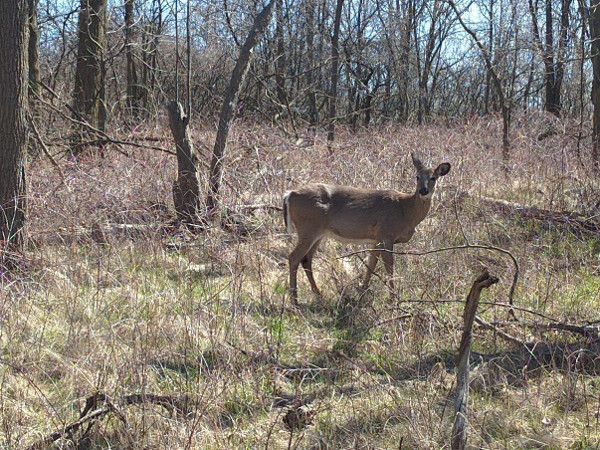 Deer on Iroquoia Heights Side Trail
Instead of focusing on speed, I put in as many hours of trail running as I could. For my weekend long runs, I started venturing farther outside the comfort of the Rail Trail, which is generally wide and flat.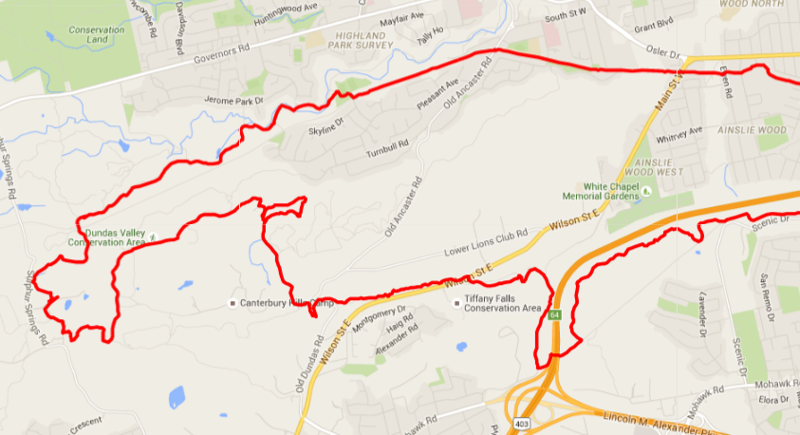 Map detail, long run on Saturday, April 30, 2016
One route I really enjoyed was: up the Radial Trail, the side trails between Scenic and the Highway 403 footbridge, turn right on Filman Road and take the Bruce Trail east of Tiffany Falls and across Wilson Street, past Sherman falls, across Lions Club Road, up Artaban Road to the Monarch Trail, west along the trail to the Main Loop, around the loop past the Hermitage, past the Sulphur Springs Trail Centre to the Spring Creek Trail, and then back to the Rail Trail via Sanctuary Park.


Bruce Trail between Filman Road and Wilson Street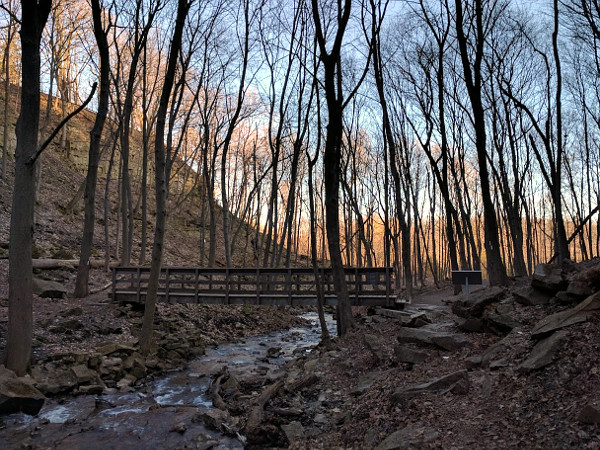 Bruce Trail bridge near Sherman Falls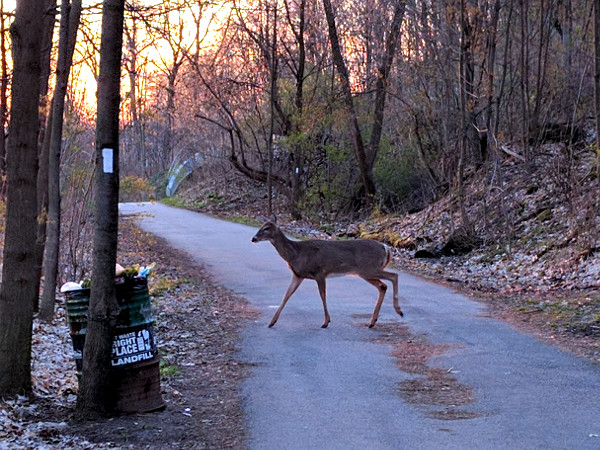 Deer crossing Radial Trail west of Chedoke Golf Course parking lot
Trail running is a fantastic way to encounter local wildlife. Species I've come across include beaver, chipmunk, coyote, deer, fox, garter snake, groundhog, mouse, otter, possum, rabbit, raccoon, skunk, squirrel, vole, and of course a wide variety of birds.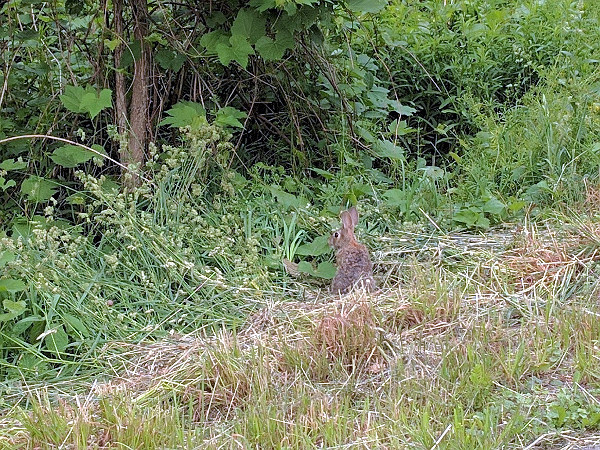 Rabbit on the Rail Trail
Through the month of May, it was wonderful watching the forest come back to life after winter's dormancy. It felt like all the trees, plants and ground cover burst into greenery in a matter of days. From one week to the next, the same place looked completely different. I even got lost a couple of times because I could no longer recognize landscape features.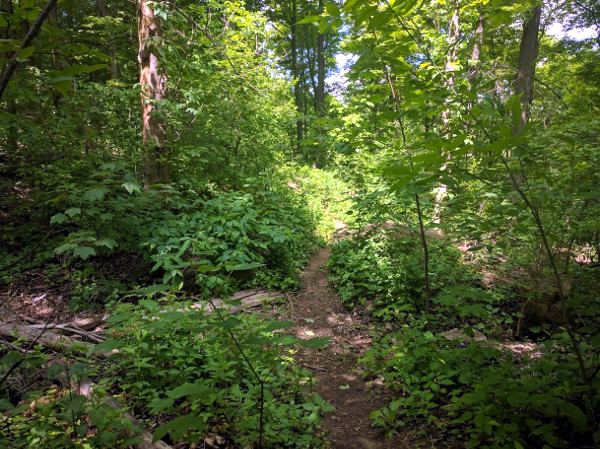 Pathway off Escarpment Trail between Wentworth Stairs and Kenilworth Overpass
5.1
Feeling Unprepared
↑
There were a couple of practice runs in the months before the Sulphur Springs Trail Race, but I wasn't able to make it to either of them, so I kind of went into the event blind without a clear sense of just how hard these trails were going to be. I had done some running in the Dundas Valley and had tackled the Main Loop, Heritage Trail and Monarch Trail, so I hoped that the other trails that were part of the 25 km route weren't much harder.
The starting/finish line was behind the Ancaster Community Centre at Jerseyville Road and Martin Road, so I decided I would bike the 12 km to and from the event, as I had for the Unity Run. The ride there would make a nice warmup, and I reasoned that the ride home would be mostly downhill.
I went to bed early the night before, woke up with lots of time before having to leave, and relaxed with a big glass of water, a few spoonfuls of rice, nuts and legumes and a banana. I brought two bottles of water with me - one slung into my water belt and the other left with my bike for afterwards.
5.2
Homemade Food Bars
↑
I also brought a homemade cashew and date bar. I used to buy Larabars to munch on during my long run but at some point it occurred to me that it probably wouldn't be that hard to make an energy bar if it only has two ingredients.
Sure enough, I found lots of recipes online, all of them pretty similar: mix roughly equal parts cashews and dates into a food processor, process until fairly smooth, press mixture into wax paper in a brick shape, cool thoroughly in the refrigerator, then slice into individual bars and wrap in a little cellophane. You can see the recipe I am using after some trial and error.

Homemade energy bars
I switched to homemade bars after ATB and haven't looked back. They're cheaper, taste great, are easy to eat on the run (literally) and do a nice job of supplying energy and protein when I need it.
5.3
The Race
↑
So I left in plenty of time and biked to the starting/finish line. Race day itself was extremely hot, well into the 30s and quite humid. It was already hot at 6:30 AM - and as it was early in the year, no one was acclimatized to it yet.
I checked in, got my t-shirt (I joke that getting t-shirts is half the reason I sign up for these things), locked it up with my bike and then paced around nervously, worrying that I would be standing in the wrong spot when the race started.
I came across my friends who had signed up for the 50 km route, so we started the run together until the point where the two routes diverged.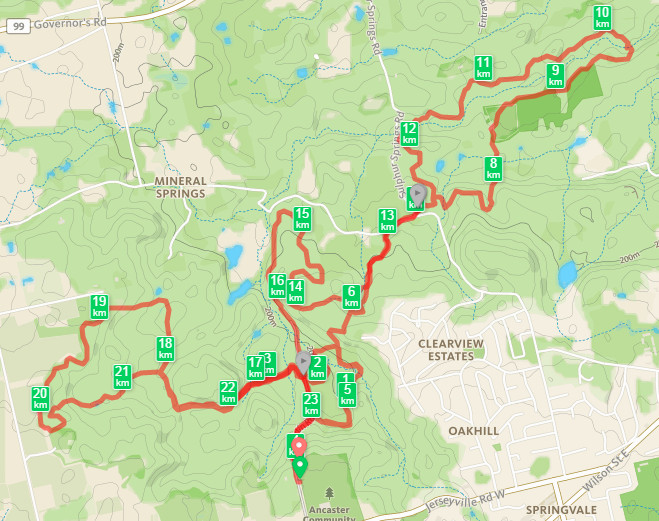 Sulphur Springs Trail Race 25K route (from Runkeeper)
The run was lots of fun. It was damned muggy and the hills were brutal, but I didn't feel pressure to race so I just took my time and enjoyed myself. If a hill was long and steep, I walked it and took the opportunity to have a swig of water.
It felt very convivial. Aside from the leaders, most people were there to enjoy running in the forest, so there were lots of nice conversations along the way.
The route encompassed the Headwaters Trail, Hilltop Trail, Spring Valley Trail, Main Loop, Monarch Trail, Sulphur Creek Trail, Lookout Trail, Reforestation Trail, Old Martin Road Trail, G Donald Trail, and a short segment along Mineral Springs Road.
By the end, I was ready not to be running any more. After crossing the finish line and getting my medal and another water bottle, I walked off the run, did some stretches and then biked home, thankful indeed that it was mostly downhill.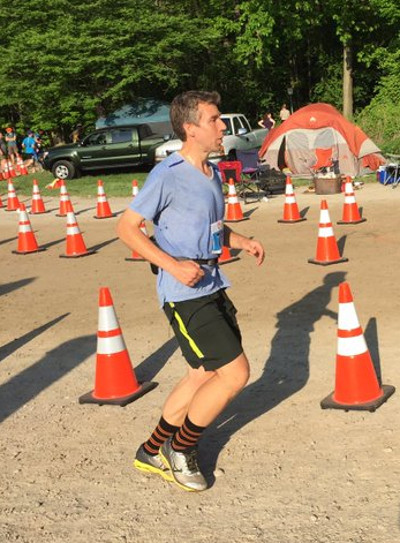 Me near the end of the Sulphur Springs Trail Race (Image Credit: Rich Gelder)
According to the race results, I finished in 2:28:52 for a pace of 5:57 min/km (10.08 km/h). That put me in 65th place among the 219 25 km participants and 48th place among the 109 male participants. Once again I was in the middle of the pack, and perfectly happy with that.
6
Summer Running
↑
After a relatively mild winter, we had a long, dry, not-very-warm spring this year, with only a few hot days (including the day of the Sulphur Springs Trail Race). But by mid-June, temperatures were spiking into the 30s and I remembered how gnarly it is to run in hot, humid weather.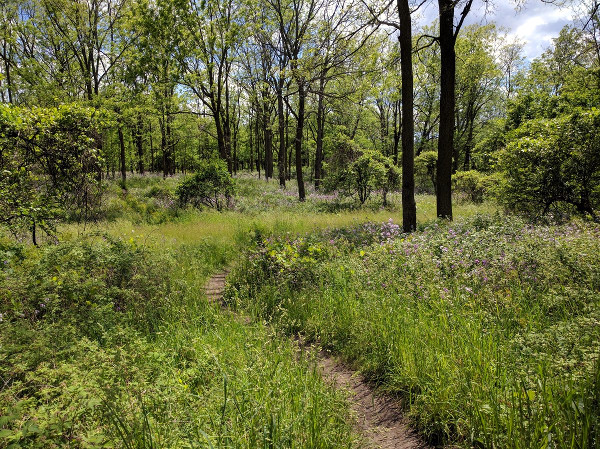 Iroquoia Heights Side Trail
I tend to shift my running times earlier in the day during summer. Because I start work early, on really hot days I sometimes take my lunch hour as early as 9:00 AM so that I can avoid that blistering noon-hour sun.
My long runs tend to be easier to manage because I'm already heading out between 5:00 and 6:00 AM, before things get too hot. For my Saturday run on June 18, for example, it was only 13C when I set out - on a day that would climb into the mid-30s by afternoon.
At the end of that run, I reached an arbitrary but symbolically important milestone: I had completed a total of 5,000 km since July 27, 2013. On that inauspicious first outing almost three years ago, I managed just 2.71 km at an average speed of 7.78 km/h or a pace of 7:43 per km. I could not even conceive back then that by this summer, I would be averaging 50-60+ km a week.
6.1
Hydration
↑
Since this year's Bay Race, when I avoided drinking before or during the race and managed to cover the full 30 km without having to stop to pee, I've been trying to do my runs less hydrated. Despite common fears, it is arguably easier and more dangerous to get overhydrated than dehydrated.
Instead of trying to drink my way though a hot, humid run, I'd rather reduce intensity and listen to my body. If I'm thirsty, I'll take a drink. If I'm not thirty, I won't drink just because I'm "supposed to". I've learned that I routinely lose 2-3 lbs of sweat during a 10 km and even more during a 20-25 km long run. This is a normal part of exercise and nothing to worry about.
I also try to pick my routes so that I spend as much time as possible in the shade. That means a lot of running on forest trails, since they're the most shady - and since I'm already going more slowly from the heat, I'm not as fussed about the slower trail pace.
I think I'm finally at the point where my ego is in check enough that I can allow myself to go slowly when it's really hot so I don't end up feeling sick.
6.2
New Shoes Again
↑
After the middle of June, my right knee started to feel a bit quirky when I was running. This is the normal way my body tells me it's time to replace my shoes. Likewise, the outsole treads were worn down and the soles themselves had become highly pliable. As usual, this happened once the shoes had reached a total distance of around 800 km. I picked up a new pair - Mizuno Wave Riders, same as usual - on June 27 when my old pair had 815 km in total.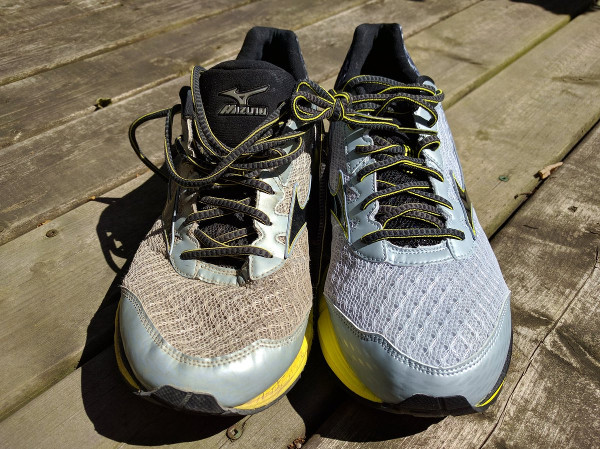 Top view, old shoe (left) and new shoe (right) on July 27, 2016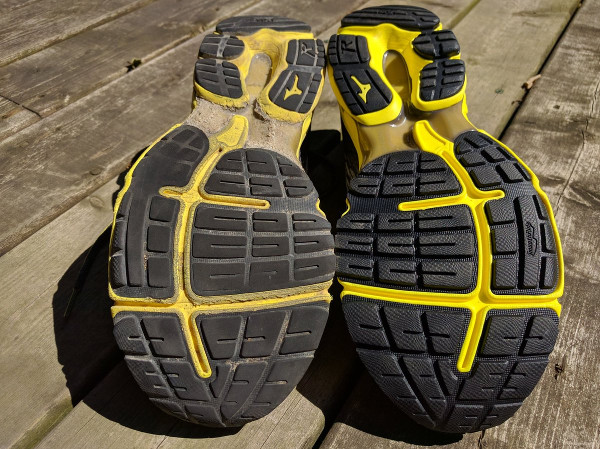 Bottom view, old shoe (left) and new shoe (right) on July 27, 2016
This is my second pair of 19s. My only complaint is that the silver-white colour doesn't age well. I've got a couple of old pairs of version 18s that I now use for walking, and they still look and feel fine despite having 800 km of running plus several hundred km of walking on them. In contrast, the 19s start to look very grimy after a few months, even with cleaning.
6.3
Road to Road2Hope
↑
I'd like to try at least one marathon - the classic long-distance running event, 42.2 km in length, based on the fabled messenger run from Marathon to Athens by Pheidippides in ancient Greek literature. The obvious place to start is the Hamilton Road2Hope Marathon, which takes place this year on Sunday, November 6, 2016.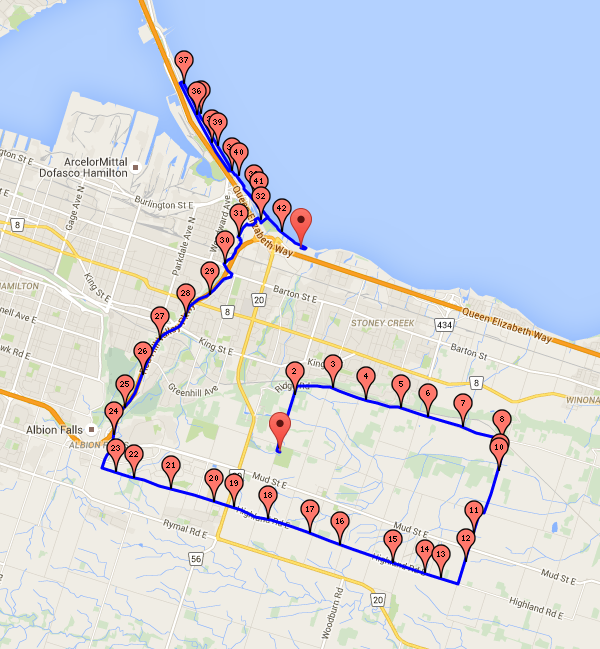 Road2Hope Marathon route
Until now, the longest distance I've run has been 30 km. Since the Bay Race, I've been averaging around 25 km for my long runs. I reckon that gives me a pretty good base for marathon training, but I want to build my distance up gradually so that I don't push my body too hard and cause an injury. I'm not interested in a particular speed, at least for my first marathon. I'll be quite okay if I finish it at around 10 km/h, which would give me a finishing time of around 4 hours and 13 minutes.
Most training plans I've reviewed are 16 weeks in duration, so the time to start thinking about a November marathon is in July. The first weekend of July, I ran around 24 km for my Saturday long run, taking it easy because I woke up feeling kind of crummy. I ran up the Radial Trail, then down the Filman Road trail to Wilson Street, back along the Rail Trail to McMaster and north to the RBG trails that connect to Princess Point and the Waterfront Trail to Bayfront Park.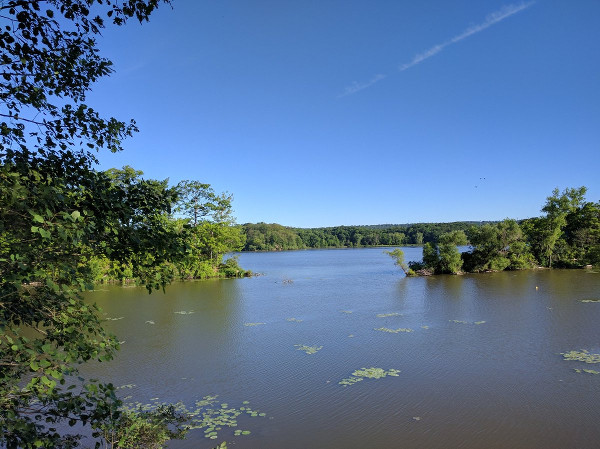 Cottage country, three hours north on the highway? Nope, it's Cootes Paradise in Hamilton
Later that day, the friends who had encouraged me to join the Sulphur Springs Trail Race asked me if I wanted to do the Sulphur Springs 20 km loop with them on Sunday morning, easy pace. I had not done back-to-back long runs before, but I thought it would be fun to go running with my friends. I was not wrong. It was a real joy - great weather, lovely conversation, and a nice relaxing pace that didn't leave me feeling spent.
As a result, I ran a total of 44 km in a 28-hour period. As my one friend pointed out, this was actually a pretty good way to start building marathon capacity without doing too much all at once.
On Monday morning I woke up a bit more tired than usual, but nothing serious. My ride into work, plus a 20 km lunch-hour bike ride, shook out the cobwebs and dispelled the aches. That week, I ran a total of 65 km - the 20 km on Sunday, 10 km each on Tuesday and Thursday, and 25 km on Saturday.
6.4
Bruce Peninsula
↑
The following two weeks I was on holiday from work. We spent the first week in a cottage of Colpoy's Bay outside of Wiarton. It was fascinating that we drove for over three hours from our house near the bottom of the Niagara Escarpment, only to end up at a cottage near the bottom of the Niagara Escarpment.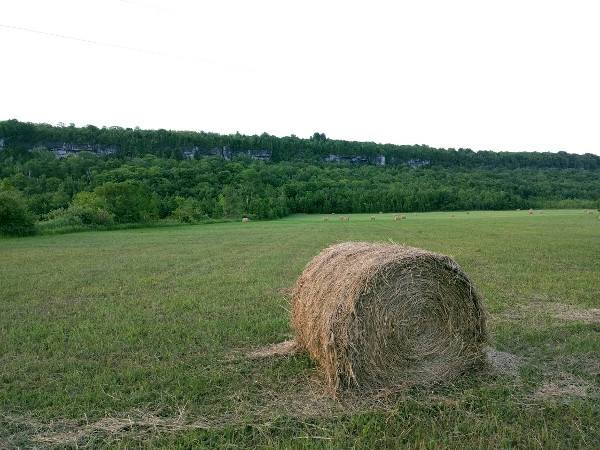 Niagara Escarpment south of Colpoy's Bay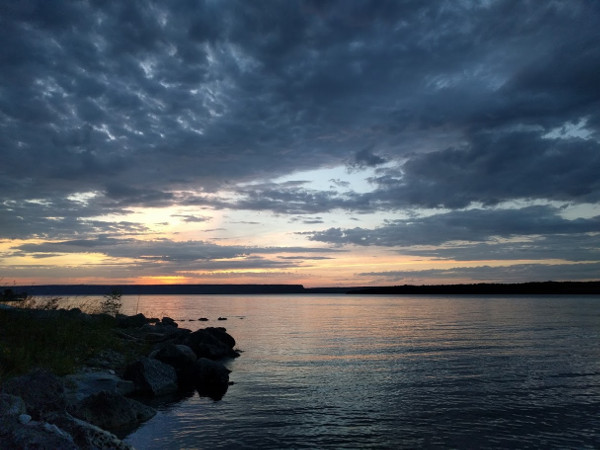 Looking across Colpoy's Bay at sunset: the Niagara Escarpment also runs along the opposite shore
Of course, the Bruce Trail also runs along the Niagara Escarpment on its meandering course between Niagara Falls and Tobermory. I went for a few early-morning runs during our week there, and I got to experience the novelty of running along the Bruce Trail several hundred kilometres from the Bruce Trail sections I normally run.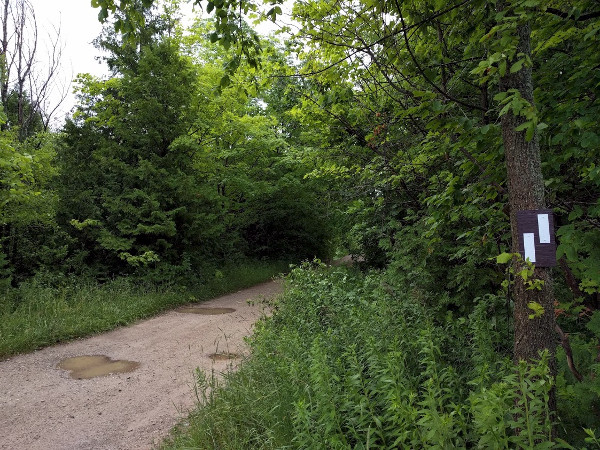 Bruce Trail around 15 km east of Wiarton
The trail was nice (notwithstanding the ravenous deerflies), but I have to say that a rural roadway is pretty much my least-favourite surface for running. You have to run on the road because there's no sidewalk or shoulder, and you have to stay on the left side so you can see oncoming traffic. However, the road is cambered (lower on the sides than the centre) for drainage, so your left foot has to come down just a bit lower than your right foot.
Over a 12-15 km distance and 12,000-15,000 steps, that imbalance really starts to add up and can lead to injury. Paved paths are also cambered, but it's much safer to mix things up and run on different sides of the path.
6.5
Ramping Up, Carefully
↑
The past three weeks I have run over 60 km a week. On the Friday of my second vacation week, my right knee was feeling tweaky, with tightness up and down the outside. (I also noticed a lot of tightness in this leg during the drive to and from the cottage the previous week. Yay middle age.)
Not wanting to get caught with patellofemoral pain syndrome (runner's knee), I realized this was my body's way of telling me to back off a bit on the distance, spend more time massaging my legs with the foam roller, and get more proactive about strengthening and balancing my muscles so my kneecap stays where it's supposed to be.
Like most running injuries, runner's knee is not a problem with the knee itself but rather a weakness in the kinetic chain that works together to produce running. The way to prevent and treat runner's knee is with exercises that strengthen hip abductors, glutes and quads - exercises I haven't really been doing up to now.
I iced my knee and gave it a thorough massage on Friday night, and it felt fine on my long run the following morning. I've been massaging my legs every night since then, and aside from a very occasional twinge, it has not troubled me since. However, it's definitely something to keep an eye on.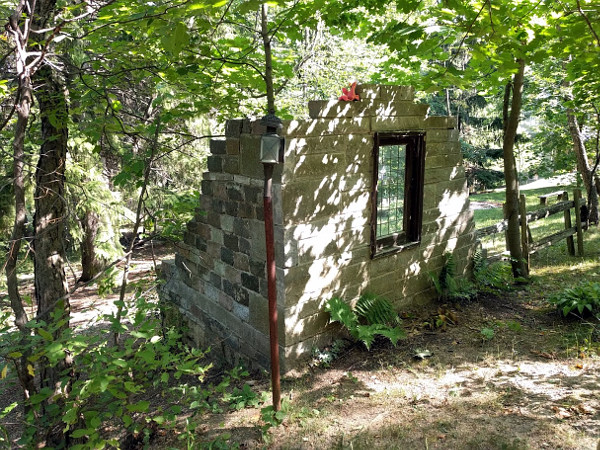 Small ruin on the side of the Filman Road trail
7
Conclusion
↑
The following table summarizes the total distance run and calories burned by year for my first three years of running:
Total Distance and Calories by Year

| Year | Distance (km) | Calories |
| --- | --- | --- |
| 1 | 1,325.21 | 155,468 |
| 2 | 1,463.20 | 149,437 |
| 3 | 2,539.66 | 244,302 |
| Total | 5,328.07 | 549,207 |
Year three is the first time I have managed to avoid getting sidelined by injury, and I've been able to ramp up my total distance in a sustainable manner, mainly by doing most of my running at a lower intensity. In fact, early in 2016 I increased the number of weekly runs from three to four.
On the other hand, I'm biking rather a lot less than I was last year. When I was injured in late 2014 and again in mid-2015, I switched to biking as an alternative aerobic exercise that would allow me to maintain fitness and keep burning calories while I was unable to run, or only able to run short distances.
Last summer, I was averaging around 133 km a week on my bike, enjoying some long weekend rides of 50-65 km. This summer, in contrast, I'm putting most of my energy into running and only biking for an hour or so, two or three times a week.
Still, it all adds up. In the past 12 months, I've biked 3,789 km and burned a total of 129,614 calories on rides that were long enough to bother tracking. (I don't bother tracking rides shorter than around five km.)
Meanwhile, the pedometer I received in October 2014 is still working, and I've been recording my total steps each day ever since. Between walking, running, pedalling a bike, marching in place and boogeying at my standing desk, I've logged a total of almost 14 million steps in the past 21 months, for an overall average of 21,500 steps a day and a rolling past-90-days average of 28,408 steps a day.
This is an excellent case in the power of incremental growth over time: when I first started wearing the pedometer, I was averaging less than 10,000 steps a day, which means I have almost tripled my average number of daily steps over a period of less than two years.
7.1
Weighing Weight
↑
One other thing I have recently started tracking is my weight. When I first started trying to get into shape, I decided not to get a scale because I didn't want to obsess about my weight. Instead, I wanted to focus on gradually and incrementally changing my daily habits of activity and to trust that changes to my weight and body shape would follow.
I went into this knowing that most attempts to get in shape, lose weight, change habits and so on fail - but some succeed. I wanted to understand why that is, and what is different about the attempts that are successful. Some core principles emerged, and they became my touchstones:
Most behaviour is habitual, not deliberate. Changing a particular behaviour entails establishing a new habit - and doing so in such a way that the old habit you want to stop is pre-empted.

Attempts to change behaviour through willpower will fail. People just don't have a lot of willpower. Instead, create an environmental context that provides cues to do the new behaviour.

Building a new habit requires lots of consistent repetition over a period of months before it becomes established.

Implementing a small change is more likely to succeed than implementing a big change. But a small change, implemented consistently and then gradually increased, adds up to a big change.

Making one change at a time is more likely to succeed than making several changes at once. Start a new habit, repeat it consistently until it is established, and then start on the next change. This is a long-term project!
Over time, as you run up against the limits of a particular change, you have an opportunity to incorporate other, complementary changes in the same manner. In addition to running, I gradually added cross-training, stretching, strengthening exercises, more walking, standing at work, and a series of changes to my diet - both what I eat and when I eat it.
In early 2013, I was in the vicinity of 260 lbs - dangerously obese. I believe regularly weighing myself at that time would have been more discouraging than anything else, since the small changes I was making early in the process of changing my lifestyle had only a small proximal impact on my weight, and I wanted to focus on the long term.
Three-plus years later, I'm in a different situation. My lifestyle and diet are dramatically different than they were when I started, I'm burning 6-8,000 calories a week in exercise, and the accumulated effects of all these changes have had a major impact on my body shape. I believe that if you want to manage something, you need to measure it, and I'm at the point where the benefits of managing my weight outweigh (pun intended) the risk of discouragement.
I've been weighing myself once or twice a week since late April, and aside from the days immediately following my fast, my weight has fluctuated in a range 3-4 pounds around 180 lb.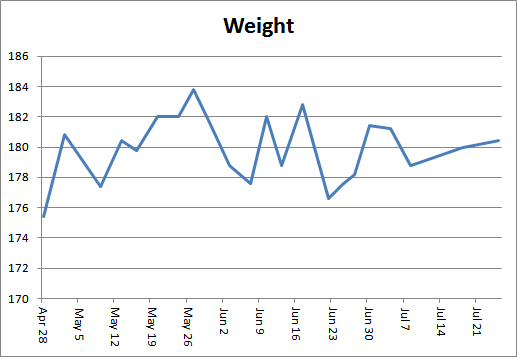 Chart: weight measurements between 2016-04-28 and 2016-07-25
For my height and gender, the Body-Mass Index (BMI) chart says my healthy weight range is between 140 and 189 lbs. I shudder to think of how emaciated I would look at 140 lbs, but I feel that a healthy weight for me is in the 170-180 lb range, so I'm on the high end of where I want to be.
I've still got a bit of a paunch that I'd like to reduce over time, and I believe I can get there my maintaining a healthy diet (I ate a lot of junk during my two weeks' vacation) and incorporating more strength-building exercises. My next significant change is going to be adding a program of weight-lifting, and as usual I'm going to start small and gradually build up.